Please note that I gave this book 3.5 stars and rounded it up to 4 stars on Goodreads.
Who hasn't seen "A Christmas Story?" I have been watching this movie since I was 6 years old and it's been a holiday tradition in my family that every year we watch this. Heck, I am not going home this year, but my brothers, sister, and I are still going to watch it and group chat. My favorite scene hands down is always watching how proud the Old Man was watching Ralphie playing with his BB gun that he wanted for Christmas.
Reading the book that inspired the film I can say that I was a bit disappointed with the structure. Since I am so familiar with the movie and can quote that thing off the top of my head, the book only really focuses on Christmas for one part of the book. The other parts occur at different times of the year, and I thought the last part focusing on the Bumpus's family was off-putting and pretty gross in parts.
The book starts off introducing the book and tying it into the movie that many readers may know about. From there it goes into the quest for the Red Ryder BB Gun. There are course are many of the same scenes in the movie so we have the whole "you'll shoot your eye out." and even the same admonishments from his teacher and Santa Claus, however, he still gets his gift, the day before Christmas. Apparently in this household, Christmas Eve was when all of the presents were opened by this family, with Christmas Day all of the other relatives showing up to provide gifts. We also do get that scene were he almost did shoot his eye out, but lied to his mother about what happened and got away from it. I found parts of this story sweet and found myself smiling throughout.
We are provided other details about the terrible Little Orphan Annie decoder ring, The Old Man and his special award, his fight with a bully named Grover Dill, and how much the family hated it when a clan of hillbillies (the books words) called Bumpus moved in next door. I am really surprised with how well the movie/screenplay was since the movie intertwines everything quite beautifully. The book jumped around a lot and maybe it wouldn't have bothered me so much if I did not have the movie playing in my head as background while reading.
I thought the writing hit the right level of nostalgia for childhood things like snow storms, being warm in the house, and love of Christmas and Santa Claus. After that though, we get Shephard's comments on marriage (his parents) and how they work. I thought looking at the major award section and how his father and mother quietly dueled over the lamp that my mother would have outlawed in our home too was pretty funny. However, unlike with the movie, this causes a three day freeze between his mother and father, before his father finally breaks the silence and everyone goes to the movies afterwards.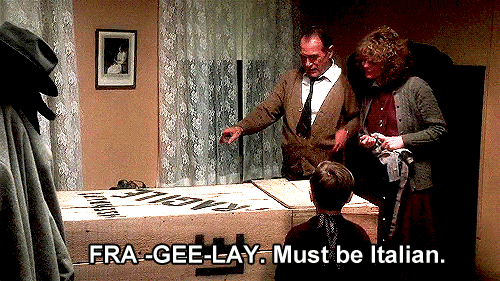 The flow didn't really work though in this one I have to say. I think it's because we have Shepard using a present incident (like the woman who was screeching about the terrible toy industry to him as an adult) to recall his childhood affection for his Red Ryder BB Gun. We get another off segue when Shepard does his best to hit on some woman (sounds like this took place during the 1960s) and is thwarted by her female lover which leads to him talking about his parents struggle over a lamp.
The setting of the book takes place in Indiana during The Great Depression. I didn't really get a sense that the family was struggling, which is weird, cause my grandmother before she passed away still was all about never throwing out food and keeping everything she had ever been given because she always had a fear about running out of food or needing clothes and blankets. She also passed this along to my mother who was a pack rat and this is why if any of you ever visit my home you will see how minimalist I am. I do a yearly purge because I still dream of rooms filled with old blankets that scratch and smelled, but we had to put on our beds every winter because they were still good.
Shepherd does a great job though with describing his neighborhood and the times of the day and how everyone was crazy for prizes in newspapers along with listening to the radio every night.
The ending was a bit of a letdown though. The book abruptly ends and I thought it needed an epilogue or something included since you feel like another story is just waiting to be told.
I read this for the twelve tasks of the festive season, task 8, the movie ticket.