I think that Moonlight Reader and I posted this as a potential read during Halloween Book Bingo. Wow, I had forgotten what a mess this book was. I honestly went into this blind since I didn't recall a thing at all about this book. I know I had it though as a kid since I had most of Cusick's books when I was growing up. Maybe even at that age I knew a bad book when I read one and pushed it out of my head.
"Teacher's Pet" follows Kate and her teacher who go to a writer's retreat. Don't ask questions about this retreat though since her teacher is into romance and Kate is into horror. They both go off and go sit in on other seminars and Kate gets some one on one with Gideon Dewe.
Now here is the thing, most of Cusick's books follows a checklist, but it's like she upped the ante in this one. Besides having a teen girl who falls for the first guy she sees, she somehow has crushes on and kisses every dude she meets in this book (there are three, Gideon, Pearce, and unfortunately named dude named Denzil) and somehow all three fall in love with Kate and her beauty. Sorry, you can't see it, but I just snickered like I was five when I typed that.
I don't even get why Kate likes horror, it seems superficial at best the way Cusick describes it. She doesn't even go into her favorite authors. And Kate's writing is so terrific that she is singled out in class which makes someone jealous enough to kill (she's the teacher's pet).
This book had so many twists and turns I refuse to follow them all. And this was a bit more gruesome than her other works (people find body parts lying around) but it still seemed like a haha type murderous place instead of straight up Camp Crystal Lake.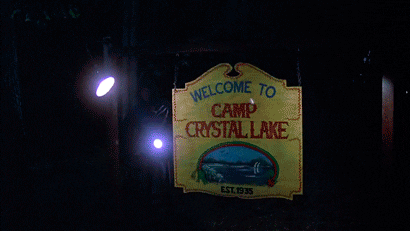 The writing wasn't very good in this one and the characters we meet are shallow. Once again you imagine there are only really 6 people in this book (Kate, Gideon, Pearce, Denzil, Kate's teacher, and also a young girl named Tawney who will cause you to go, well bless your heart a lot while reading about the things she's saying) and you imagine that other people exist, but not really since Kate never speaks to any of them.

I laughed out loud while reading this ending around 1 am. The evil-doer is found out, I called BS on that whole thing, Kate kisses one dude, and then the other, both dudes still in love with her and promise to fight for her love (why???) and she hops on a train with her teacher. Um, you all were just murdered and there was a fire, why the heck are the cops allowing them to leave just like that just an hour or so after the events are revealed. I have watched enough of The First 48 to know they just couldn't go home like that. Also where are Kate's parents? You think she call them instead of having her heart beat fast cause she's looking at one of her beau's profile.
Ah well, too bad there wasn't an ending like this: