FYI, I DNF this book at page 122. I skimmed the rest of the book and only fully read the last four chapters to see about the resolution of the story.
Please note this book will have spoilers from book #1, so read at your own risk.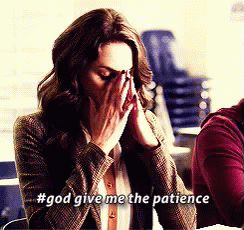 So instead of me posting gifs of people running away I am just going to try to keep this short. The entire premise of this book was absurd. I could not get past it.

Cassie, the partner of Rob (who was the lead character in book #1) is back as the lead in book #2. It makes sense to showcase Cassie after the brutal breakup of the partnership between these two in book #1. Cassie transferred to Domestic Violence and is now in a relationship with Sam who is still in the Murder Squad (part of the Rob/Cass trio).
When Cassie is called to a murder site by Sam, she runs across her old boss (Frank Mackey) in undercover. They tell Cassie to cover up and be there quickly. When she is there, she finds a young woman that could be her twin that is murdered. The young woman also is using the name that Cassie used in her old undercover days, Alexandria Madison. Frank has a crazy idea though, he wants Cassie to go undercover as the dead woman and live with the dead woman's four roommates in order to flush out a murderer.
I can't. The whole plot was dumb. We then have Cassie waffling about being involved, but wanting to be involved and getting talked into via Frank. Sam the only person with any kind of damn sense sees how stupid this is. Also how did any superior sign off on this mess???
Cassie looks at some videos on the dead woman's phone so she is going to use that in order to see how to impersonate her.
Cause you know, you going to live with strangers who could be part of the reason why the woman is dead is totally a smart thing to do. I just hated this whole thing. I also hated how obsessed Cassie gets with the entire group of friends. She needs to see a therapist. Considering how she broke open the last case, I am wondering who this impostor is, she had no damn sense as far as I could tell the entire book.
Cassie is adrift and feeling anxious since the last murder case she worked. I honestly don't get what she was anxious about. Was it the breakdown of her friendship with Rob (by the way he is barely mentioned which drove me up the wall) or was it the actual case itself? I felt like I got more insight into Cassie in book #1 and she wasn't the lead character. She is mysterious in this one and I will say it, kind of a moron. Did I say that already? Well she is.
There is no character development at all in this book. I saw a couple of asides to her friendship with Rob, but not a lot. I honestly don't get what Sam was doing in this one and why he even put up with Cassie. Frank, eh, I know he is the subject of book #3, since Themis recommended that book that is the only reason why I am reading it. Only reason.

The roommates are paper thin dolls. They make absolutely no sense. Three people being told what to do by one of the roommates who makes all their decisions for them. All four of the roommates are obsessed with not sharing their pasts and fixing up an old house. I hope you like reading about how lovely Cassie finds everything.
The writing and flow of this book was nothing like book #1. I was over everyone which is why I DNF this book. Cassie becomes obsessed with the dead woman's life and thinks she knows her cause in some other life or something this could have been Cassie's world. I don't know guys, I just wanted to drink some wine and not think about this book. I just didn't have the patience for it at all.

Eventually we find out what happened to Alexandria Madison. I didn't really care, but honestly anyone who read a book had to know where this was going. I ended up just feeling disappointed in Cassie and just over her. She jumped all over Rob for not seeing what was right in front of him for book #1, and I wanted to yell pot meet kettle at her when I read the last couple of chapters. If French had ended the book with Cassie trying to reconcile with Rob months later at the conclusion of this case it would have worked better for me.

The setting was not great. Most of the action (if you can call it that) is at an old house that Cassie lives at with the roommates. They all act like this place is the best thing ever. It's an old and falling down home. That's it.
The ending was a shoulder shrug to me. We already knew where Cassie's life was heading towards since Rob dropped information on us at the end of book #1. I just rolled my eyes at Cassie acting like her investigating this dead woman's life was some great experience.