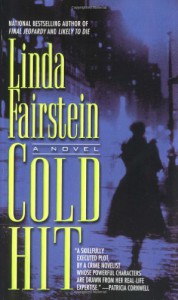 Seriously though. Mike is an ass. I just cannot like this guy. I met too many guys like this in law enforcement. I hope that he and Alex don't have a romance down the line. Unless he changes significantly, here's hoping that he takes a header into a wall or something in the later books.

"Cold Hit" has Alex, Mercer, and Mike investigating when a dead woman is found raped and murdered and left in the water. Alex and her two besties (sorry being snarky) eventually find out the dead woman is named Deni Caxton who was going through a nasty divorce. She and her husband were well known in the art world, and it looks like that may have something to do with Deni's death.

So far just okay. Nothing is grabbing me. Mike goes through the history of Hell's Kitchen and even I found myself not caring. I usually don't mind history dumps in books. For some reason this dumps keep taking me out of the story.

I honestly feel like there is barely anything for Mercer to do in these books. I wonder why he manages to not be an asshole to Alex, but she seems to turn to Mike more and more. Alex is dating someone new and it looks like it has been a year (she is 35 in this one and turns 34 after the events in Likely to Die) since book #2. The new guy so far seems barely in this story. He keeps trying to call her.

Things are a bit repetitive, but thank goodness Fairstein seems to edit things out since she realizes (I hope) that readers should know the backstory to the characters at this point.