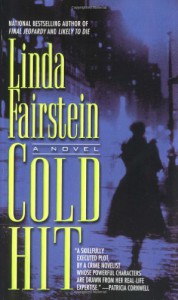 Ehh. This was just okay. I think that trying to tie together a kidnapping/rape to the art world in New York just didn't work though. There were way too many plot holes. It didn't help either that this is the third book in the row when Alex finds herself in danger. She works for the DA. How the hell is anyone targeting her all of the freaking time? It makes zero sense. Very little character development of Alex, Mercer, of Mike. I liked Mike slightly more in this one just because you get to see how much he loves and cares about Mercer. Other than that, this whole book was a bit of a snooze.
"Cold Hit" has Alex and friends going after the murderer of a wealthy woman with a lot of enemies. The "cold hit" portion comes from the DNA results from a rape kit after it is revealed the dead woman was raped before she died. The DNA comes back to someone that leads us back to the New York City art world. Alex starts to worry when it seems like someone is after her, and then someone close to her gets hurt as well.
I do like the insights that Fairstein brings to sexual assault cases. I just don't like Alex. After book #4 which I also finished recently, I decided to hang up this series for good. I won't get into that for this review though. Alex in this book is dithering back and forth because she is seeing someone new (a tv news announcer) after things didn't work out between her and the last guy that was mentioned in book #2. Alex is alone because it's easier it seems, but is resentful of being alone. I don't know. She seems to want Mike and Mercer to always be there by her side, but doesn't seem to make a lot of room for the supposed men in her life.
The bickering between Alex and her supervisor is also getting old. He's technically her boss and she readily implies in this one that he is sleeping with a subordinate while the woman was sitting right there. Who knows if it's true or not, but the whole thing read as very unprofessional. I was embarrassed for her.
Alex and Mike are toxic as hell and I really want them to leave each other alone. Seriously. He talks down to her to her face and when other people are there. It's not cute or romantic.
The book takes place in New York. Fairstein adds in a lot of history in this one about Hell's Kitchen that didn't really fit in my mind while reading. The events in this one also take place a year after the events in book #2 since there is mention of Alex's age, and she was just having a birthday in the last book that put her at 34.
The ending was a joke and a half. At this point, Alex should have bodyguards with her at all times. She's always being abducted and threatened.