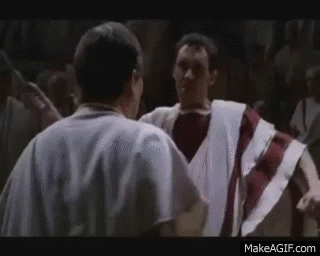 I have come for the airing of grievances. I have come to beg the Book Gods to give me a break and have me stop reading books that totally do my head in. I have asked for characters to stop being too stupid to leave. I am on my knees declaring an end to love triangles and information dumps via third parties.
1. Whitney My Love by Judith McNaught (Whitney My Love Review)
Hey you don't want to read a book where the hero is violent towards the heroine, but somehow it is always her fault? This book is pretty famous in Romance Land.
2. How the Light Gets In by Louise Penny (How The Light Gets In Review)
Honestly, the continuing adventures of Armand Gamache in this one didn't work for me. You have so much mess going on with Jean Guy that this book did my head in. At this point I have no idea why Gamache continues to trust Jean Guy anymore. And I got really tired of constantly reading about the supposed corruption in the police force that only Gamache could root out.
3. The Lying Game by Ruth Ware (The Lying Game Review)
Do you want to read about rules to a lying game that never really gets shown throughout the book, instead the author just has chapter headings about it? Do you want to read about the lead character and her constantly dragging her infant daughter with her while she purposely seeks out dangerous situations? I also had a hard time with the lack of character development and the secret that this woman and her supposed friends (she hasn't seen in person in years) kept.
4. The Burial Hour by Jeffrey Deaver (The Burial Hour Review)
I have 100 percent given on on reading about Rhymes anymore. It's just gotten to the point that the character has gotten to a really unbelievable stage and the plots don't make much sense to me anymore.
5. Not Ready for Mom Jeans by Maureen Lipinski (Not Ready for Mom Jeans Review)
I just got over this book after the constant bashing of working moms and women who are overweight.
6. Dune Messiah by Frank Herbert (Dune Messiah Review)
A thousand times no. I will never get the time back from trying to muddle through this book.
7. The Silent Corner by Dean Koontz (The Silent Corner)
I cannot get over newly published books by Dean Koontz. This one was really bad IMHO. Reading a book that is barely horror (though it's touted to be) with the main character as a Mary Sue. No thanks.
8. Where the Past Begins by Amy Tan (Where the Past Begins Review)
This memoir rambled and skipped over a lot of things.
9. A Million Little Things by Susan Mallery (A Million Little Things Review)
All three characters we follow in this one are very flat. One situation that arises in this book had me rolling my eyes and also not finding the ending very realistic.
10. Sisters Like Us by Susan Mallery (Sisters Like Us Review)
Doesn't really follow sisters, follows two sisters, and one sister's daughter. The one sister's romance was beyond frustrating and I hated the male hero for saying he wasn't ready for a relationship but trying to force himself into their lives anyway. You don't get to be half in. I kind of threw in the towel on the Mischief Bay series after this one.
11. Happiness: The Crooked Little Road to Semi-Ever After by Heather Harpham (Happiness Review)
This memoir tried too hard and just didn't work for me at all.
12. Burn Bright by Patricia Briggs (Burn Bright Review)
I have never had so many discussions around one book in my life. This put the nail in the Alpha and Omega series for me. I can't go back and read anymore. I am still feeling a bit uneasy about continuing with the Mercy Thompson series.
13. Bonfire by Krysten Ritter (Bonfire Review)
Way too many plot elements going on and read like a Lifetime murder mystery.
14. The People We Hate at the Wedding by Grant Ginder (The People We Hate at the Wedding Review)
Trees died for this book.
15. Perfect by Judith McNaught (Perfect Review)
The absurdity of this whole book was made worse by the alpha males in this one.
16. First Grave on the Right by Darynda Jones (First Grave on the Right Review)
The main character, writing, and flow were awful. Could not continue with this series.
17. The Long Way Home by Louise Penny (The Long Way Home Review)
A filler book that was just written to kill off a main character. Nothing about this one makes any sense at all. I also ended up hating the character of Clara.
18. The Art of French Kissing by Brianna R. Shrum (The Art of French Kissing Review)
Reading about two teens acting like jerks didn't do a thing for me. The main point of the book (the cooking competition) should have taken up more space than it did. Most of the book was just reading about how nasty Carter was being to Reid.
19. My Husband's Wife by Jane Corry (My Husband's Wife Review)
I don't know if I disliked this one more than The Girl Before or not. They both just suffer from could not happen unless heroine had a total brain transplant.
20. The High Tide Club by Mary Kay Andrews (The High Tide Club Review)
Didn't know if it wanted to be a romance or a romantic suspense book. Neither one really works. The main plot of needing to hire someone to track down old friends doesn't work out really well and I loathed how the characters who were POC were portrayed.
I will update this list again in December.