Task 1: Burn a book in effigy. Not that anyone of us would do such a thing, but if you HAD to, which book would be the one you'd sacrifice to the flames (gleefully or not)?
Burn Bright by Patricia Briggs (Burn Bright Review)
I already commented about how this book just about broke the fandom when Briggs provided readers insight into a character. I never in my life want to have to discuss if pedophilia is still a thing if the person doesn't act on it. I maybe rolled my eyes a million times when I saw this was up for a Goodreads Choice Awards too. This book has also ruined my love of the Mercy Thompson series. Just did a re-read for Halloween bingo and just felt bitter the whole time.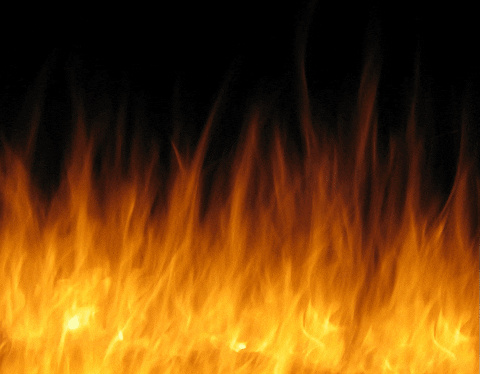 Task 2: List your top 3 treasonous crimes against books. Not ones you've committed, but the ones you think are the worst.
1. Dog earing the pages. Get a freaking bookmark!
2. Borrowing someone's book and not returning it. I had someone lose one of my books two years ago, and I am still mad about it. She also didn't even offer to pay the value of the lost book. Just acted like it was just one of those things.
3. Treating it like it's a decoration and using it to color coordinate your bookshelves. Yep, I still hate that trend.
Task 3: Share your favorite / most memorable BBQ recollections or recipe, or your favorite recipe for food "flambé" (i.e., doused with alcohol which is then set aflame and allowed to burn off).
Favorite BBQ recollection is definitely being a little kid and going over to my father's aunt and uncle's house (they raised him) every Memorial Day and Fourth of July and eating BBQ. All of the kids would run up to where this old spring was and drink from it. We would play basketball, hide and seek, jump rope, and do our level best to injure each other without causing bruises. Then we would run back to the house when the food was ready. Usually my aunt would holler at us kids to get down from that hill and come and eat already. She would sit there with a cigarette in her mouth and call us rotten (that was her way of saying she loved us) and we would just eat, and go and play, and come back and eat again. I would just eat hotdogs, hamburgers, potato salad, mac and cheese, chitlins, pigs in the blanket, cake, until I thought I would burst. I still can't eat a hotdog unless it's been on a grill. It just tastes wrong to me somehow.
Task 4: Find 5 uses of the word "gunpowder" in book titles in contexts other than for blowing up things or shooting people (e.g., Gunpowder Green by Laura Childs = tea).
This was really hard! I also am going to await some ruling on my book titles and included links for them below.
1. The Gunpowder Gardens or, A Time for Tea: Travels Through India and China in Search of Tea by Jason Goodwin. I think after doing several hours of research, I find one. I had to dismiss some cozies that had Gunpowder in the title.
https://www.amazon.com/Gunpowder-Gardens-Time-Tea-Travels-ebook/dp/B007YANR90
2. Gunpowder Alchemy (The Gunpowder Chronicles #1) by Jeannie Lin. This does not appear to be about blowing up people or shooting them. Lin seems to be doing a steam punk book which has the Qing Dynasty falling to Great Britain due to the creation of steam engines. Book 1 of the The Gunpowder Chronicles, an Opium War steampunk series.
https://www.goodreads.com/book/show/36366670-gunpowder-alchemy
3. Gunpowder (Gunpowder #1) by Joe Hill. Gunpowder in this case refers to the planet R2 in this book. I have been meaning to read this someday, but refuse to spend $100 on it (Amazon price).
https://www.goodreads.com/book/show/6021073-gunpowder?from_search=true
4. Gunpowder by Bernard O'Donoghue. This is a book of poetry.
https://www.goodreads.com/book/show/5244251-gunpowder?from_search=true
5. Colour of Paradise: The Emerald in the Age of Gunpowder Empires by Kris Lane. Hmm this is a history book that goes into the emerald and why it is/was so important to the Islamic empires.
https://www.goodreads.com/book/show/6801226-colour-of-paradise?from_search=true
I am currently reading The Essex Serpent which should fit this. Set in Victorian London and an Essex village in the 1890's, and enlivened by the debates on scientific and medical discovery which defined the era, The Essex Serpent has at its heart the story of two extraordinary people who fall for each other, but not in the usual way.