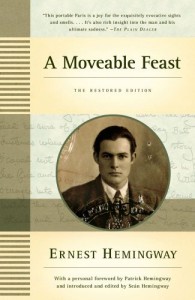 Too bad that I didn't finish this in enough time to have it count towards my Literary Birthday book reads for 2016. I should have just DNFed it since it didn't do anything besides bore and annoy me in equal measure.
So this is a memoir by Ernest Hemingway, where he talks about writing and then shit talks everyone else. I think the only people that Hemingway could stand was his wife at the time and his son. And even then I have questions about that since he mentions how their cat used to Bumby (that was what he nicknamed his son I am guessing) sit and they would leave him alone to be cat-watched. I wish I was kidding here.
Hemingway seemed to be jealous and annoyed by all that came near him. He seems to have some weird falling out with Gertrude Stein and I don't know if it's because she was calling someone "pussy" in an affectionate tones, or maybe he disapproved of her being gay. He has some really weird asides about homosexuality in this book and apparently thinks that men were just looking to assault one another so you had to be on your guard against those type of people. I just don't know.
This book had no flow to it at all. It also read very sterile to me except it would come alive when he would be talking about his dislike of women, Zelda Fitzgerald and Stein.
"Under questioning I tried to tell Miss Stein that when you were a boy
and moved in the company of men, you had to be prepared to kill a man, know how to do it and really know that you would do it in order to not be interfered with."
"There is not much future in men being friends with great women although it can be pleasant enough before it gets better or worse, and there is usually even less future with truly ambitious women writers."
Seriously though, most of this book seemed to be about his relationship with F. Scott Fitzgerald. There is jealousy here and there about how well he could write, and it seemed that Hemingway liked to show that Scott (as he called him) could not take his drink and was a bit of a hypochondriac. There is even an embarrassing scene where Scott tells him that his wife Zelda has said that he is not normal (length wise) and Hemingway tells him average is okay and let us go and look at some statues. I actually put the book aside for a second because I was hoping this was just a joke.
The memoir eventually peters out and we are provided early drafts of the beginning, and fragments of stories.