Hmm, well hopefully Booklikes let's me get my book covers in this post. I was having issues sizing them down the other day.

So far this year, I read 33 books. I only decided to have 50 books for my challenge this year, so if I hit a slump (it happens) I can just ride it out without pushing myself to read.
I also have to say that Ann Rule's book covers are atrocious. Glad I got that off my chest.
5 stars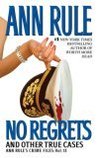 4 stars
3 stars
2 stars
1 star
I did read one book for the Horror Aficionados group read. So glad to be back with them.

And I also read one book for the (Mostly) Dead Writers Society 52 weeks challenge.
My favorite book this month was "Faithful Place" my least favorite was "Not Ready for Mom Jeans."