Not too much to say about this one. It didn't really grab me and I did have a hard time sticking with it. That usually never happens when I am reading an "In Death" book. Even when it's ticking me off, I am engrossed. I just felt slightly bored by this one. I do have to say that a serial killer (New York is full of them apparently) murdering women in this one due to books reminded me of a t.v. show. I honestly can't recall which one, but it was bugging me throughout this reading.
"Dark in Death" takes place in February and we have the usual comments about the weather in this one. Eve and Peabody are called into a murder at a movie theater. A young aspiring actress if found dead after going to catch the movie "Psycho".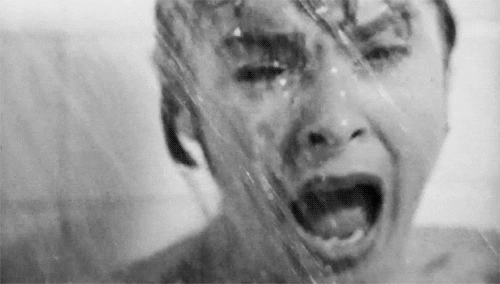 I initially thought it would have something to do with Hitchcock, but nothing doing. Instead another murder is quickly brought to Eve's attention via Nadine with a murder mystery writer being seen as the ultimate target of a serial killer.

Not going to lie, a bit disappointed on how this one just lands in Eve's laps. There is no real detective work in this one. Nadine pops up and is all here is the inspiration behind these murders. The writer didn't interest me either. Hopefully she and her daughters don't appear in any future books. I got worried for a moment with someone else out there falling in love with Eve and then she be the subject of books like she already is the subject of a freaking Academy Award Winning movie.
I do have to say this one takes a look at a more romantic and homebody Eve. I don't know if this is Robb's way of showing how domestic Eve has gotten which of course may make some fans leap to the idea of Eve finally being ready to have a baby with Roarke. Either way, it was interesting, and I was glad to see things change up between Eve and Roarke. A pretty funny scene was when Roarke returns home after having a bad day at work (I know right? When does Roarke have bad days at work?) he finds Eve hanging out and reading a book. Then things go to Eve being up for some foreplay with her playing hide and seek with Roarke. Look I know it sounds weird, but I found it charming.
Peabody dialed down to regular. We still get some random comments from her, but I didn't want to kick her butt like I did when I read "Echoes in Death."
The big thing is I don't really buy the whole new relationship with Nadine. Reading about Eve and Roarke discussing it made it even more boring which I didn't think was possible. When the new guy throws out a comment about do Nadine and Eve ever argue with less clothing on, I went thumbs down mentally with him. Blech.
We get Dr. Mira and McNabb here, but not a lot of the old favorites. I can't remember the last time we saw Charles and Louise. Also where is the Commander at these days? Did he make an appearance in the last book?
The ending is a foregone conclusion. Even the confession scenes lacked a punch in this one.