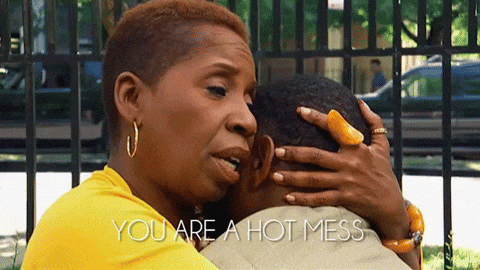 The last time I recall someone telling me that a book was the greatest romance they ever read, they were speaking about "Fifty Shades of Grey." I was reluctant to even read this one because I knew that I probably wasn't going to like it. I started to read it and went, yep do not like. I gave this two stars honestly because it's engrossing to read even though I didn't like one character save the two servants (Nelly and Joseph). And I was pretty much luke-warm on Nelly for most of the book. I don't know, maybe this would have worked better if the story was told from Catherine or Heathcliff's point of view. Most of the story follows Nelly's POV and a man named Mr. Lockwood.
"Wuthering Heights" begins in 1801 when a man named Lockwood begins the tale. Lockwood is a new tenant at Thrushcross Grange and he goes to pay a visit to his landlord a Mr. Heathcliff. Mr. Heathcliff lives in his home called Wuthering Heights. Lockwood is repelled by most of the household (same boy, same) and wonders at the young woman named Cathy that lives there and a young man that Cathy seems to despise named Hareton. When Lockwood stays overnight in Wuthering Heights, he finds the diary of a woman named Catherine Earnshaw and starts to wonder about the people who lived there. He eventually gets his housekeeper, Nelly to tell him about what went on at Wuthering Heights. Bronte then proceeds to take up the rest of the tale explaining about Catherine, her brother Hindley, Heathcliff and the Linton family.
So, there's so much going on that the narrative told by Nelly doesn't help. Nelly is like the priest in Romeo and Juliet to me. Knows a lot about what is going on, but does nothing to help.
I honestly don't get why women were swooning over Heathcliff. He's a bully and as much of a mess as Catherine. I do feel badly for how he was treated by Hindley, but he purposely went about trying to ruin people and play God with other characters.

Catherine seemed ridiculous to the extreme to me. I just imagine that the men fought over her because no one else was in the vicinity besides Isabella.
Hindley I found to be terrible and I honestly pitied Edgar and Isabella. The last two are just used as chess pieces and don't seem to be viewed as people with real hope for love and a happy marriage.

The writing was a bit tough to get through. It just didn't work for me at all as a Gothic romance. I really loved Jane Eyre by Charlotte Bronte so just figured this would work for me too. I think if the book had switched things up so that we stayed with one narrator this would have made things stronger.
The flow was off. I think switching from narrator to another narrator and I think some other narrators (my brain shut off) it just made the story too unwieldy to follow after a while.
The setting of Wuthering Heights sounds desolate and unforgiving though.

The ending just leaves you with a shake of your head. You are left thinking that maybe a cycle has been broken, but you wonder since once again, the families in this story are a hot mess.